Conga Line Tours: My Second Improv Everywhere Mission 🔗
Saturday was a beautiful day in our Nation's Capital. Puffy white clouds floated over a deep blue sky, with pleasant temperatures and low humidity.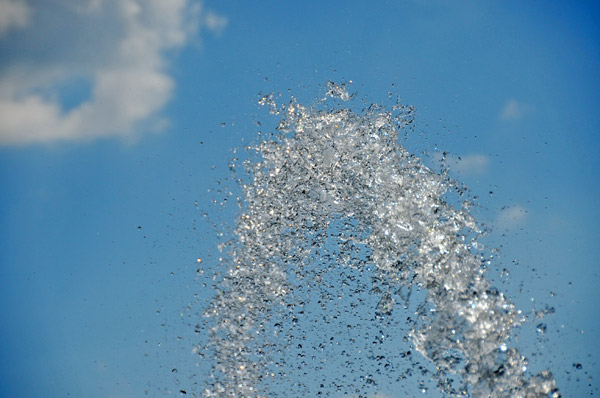 It was a perfect day for another Improv Everywhere mission. Back in May, I participated in my first Improv Everywhere mission: "Famous for a Day." Improv Everywhere is a group chartered to cause "scenes of chaos and joy in public places," producing "missions" of performance art with volunteer "agents." In Famous for a Day, agents pretended to be fans and paparazzi, enthusiastically following a made up "celebrity" (who was also an agent). It was great fun.

The same chapter of Improv Everywhere decided to put on another event in Washington, D.C. on Saturday, August 16, 2008. We were to meet at the Navy Memorial Metro station. I arrived a bit early, so walked around the Mall a bit first, taking some pictures.




Here's a self portrait: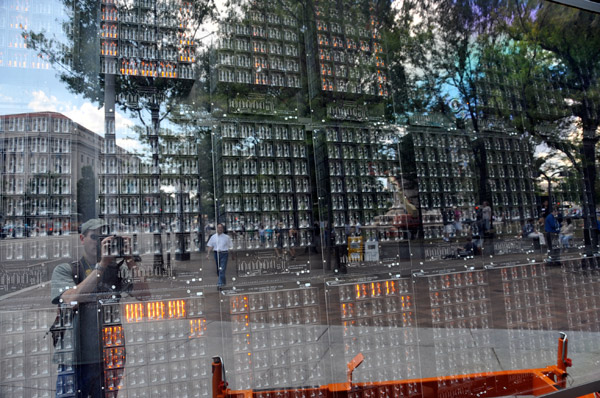 As 1:30 p.m. approached, I headed back to Navy Memorial to meet up with other agents.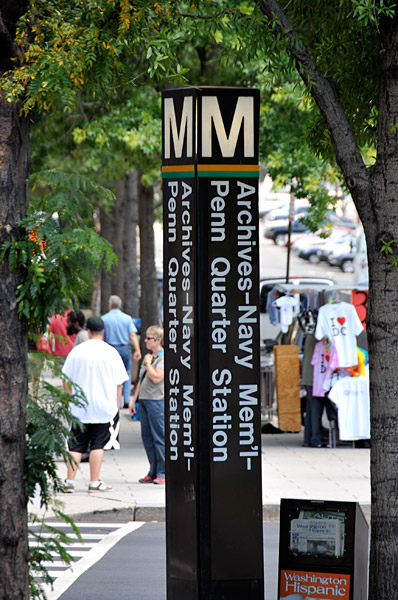 Bruce Witzenburg, the organizer of this event, was already in place trying to attract visitors for a "free tour."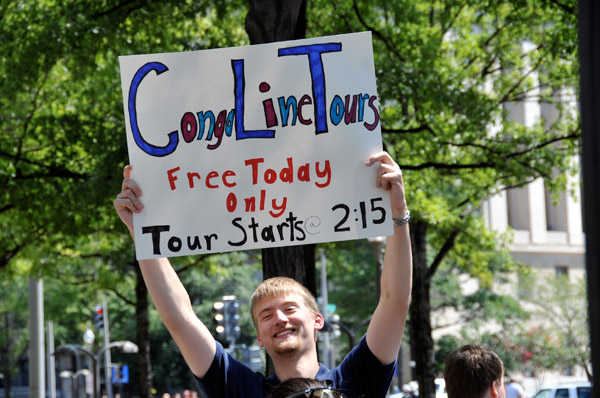 The premise: There are many tour companies in Washington D.C., and each one seems to provide its own gimmick. For example, there are bus tours, bike tours, trolley tours, and Segway tours.

We decided to add a new tour company to the mix: Conga Line Tours.

Conga Line Tours would provide a real, bona fide instructional tour of various spots throughout D.C.

Complete with a three-piece Conga Band.

Guests would have to dance the Conga as they went from point A to point B.

As a new company, Conga Line Tours was offering its first tour for free. To help get things going, we had plenty of agents pretending to be tourists (complete with "I love DC" t-shirts and cameras around their necks), who gladly signed up for the inaugural tour.

No dancing for me, though: My role was to secretly photograph and videotape the event.

While waiting for the event to begin, I tried to look like a tourist snapping photos of the area.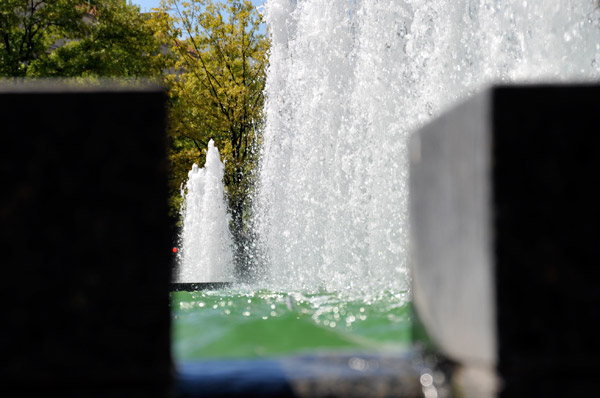 One of our agents tries to recruit guests for the free tour.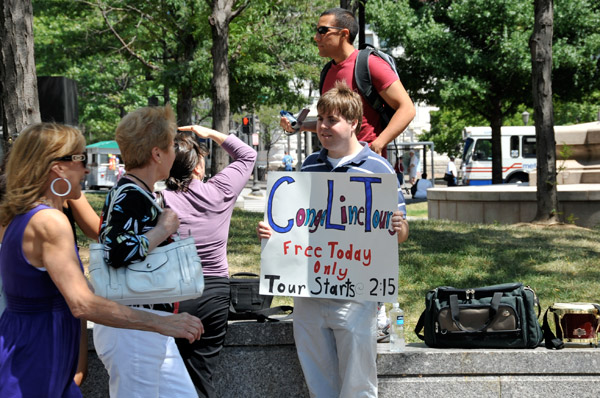 Two members of the band (left) and one of three tour guides (right) return from a quick run to Starbucks, fueling up for the tour. I like the pigeons in this shot. (They were not Improv Everywhere agents.)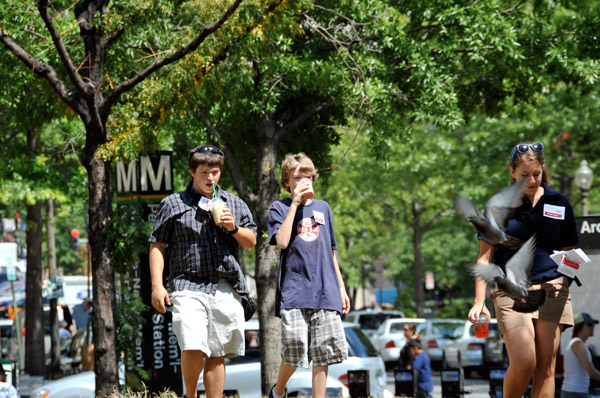 More recruiting.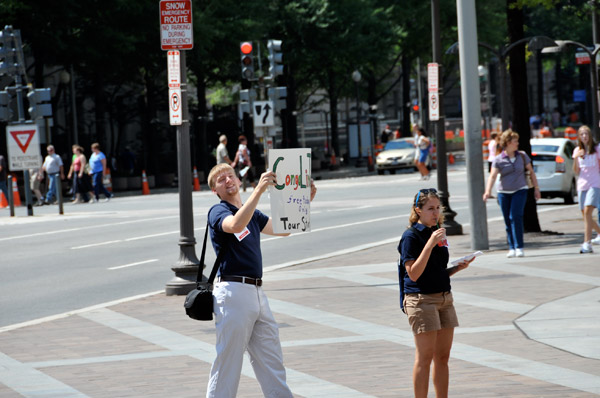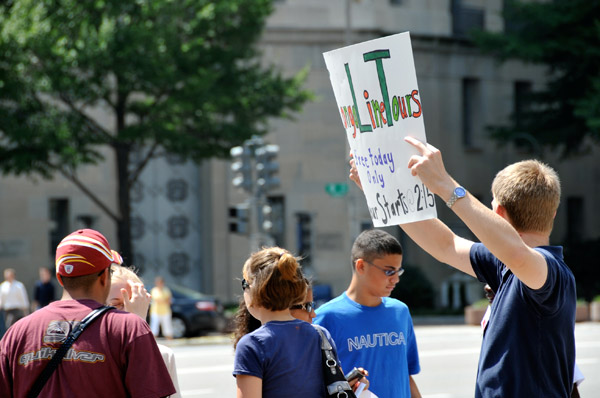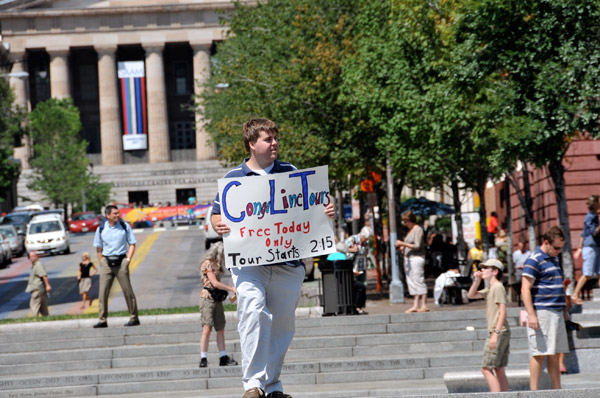 The band practices.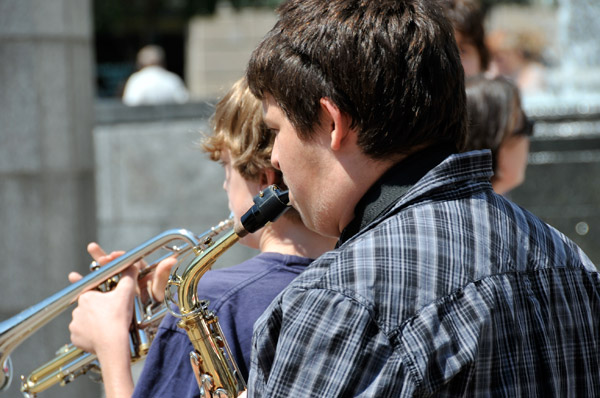 The tour group begins to form.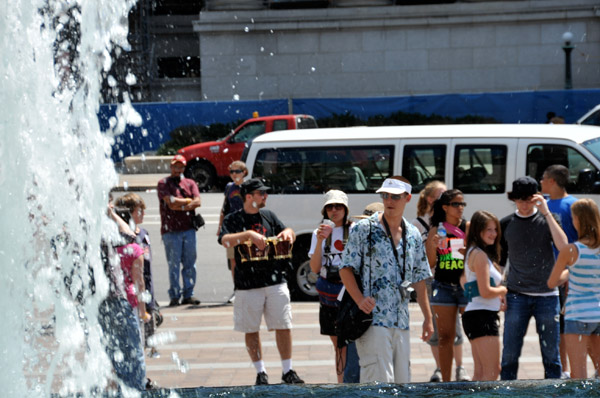 And then, a Segway tour group wanders by. Segways have nothing on Conga Line Tours!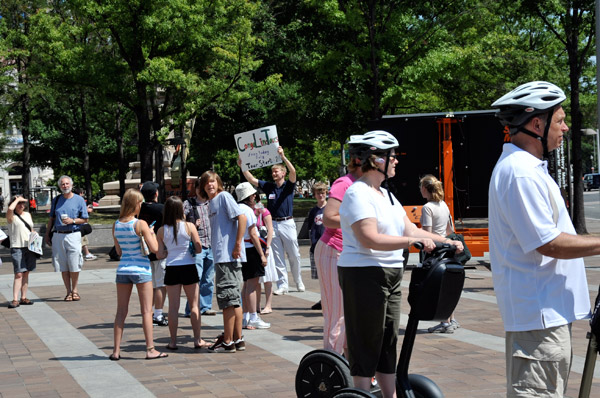 The tour begins. Tour guide "Dancin Dan" begins to describe the area around Navy Memorial.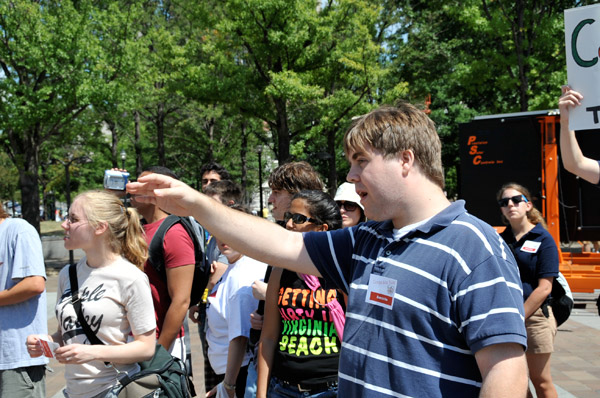 On to the next location: the Conga band, including Bongo Bill, plays a Conga beat while tour participants dance along Pennsylvania Avenue.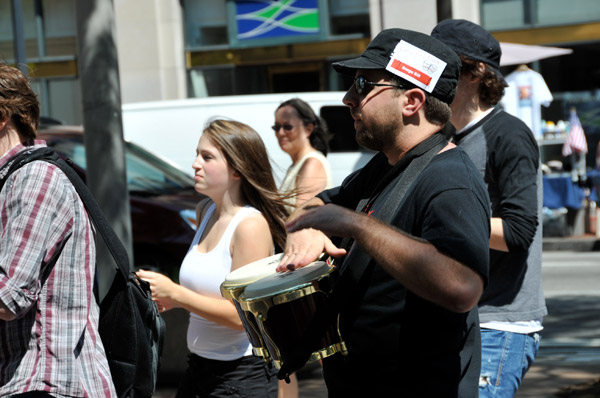 Next up: tour guide Jammin Janet provides a description of the J. Edgar Hoover FBI Building.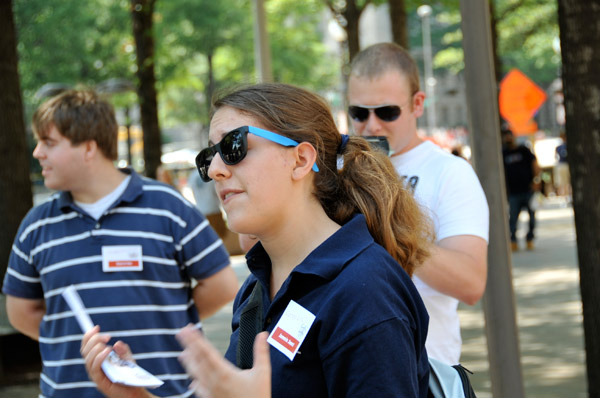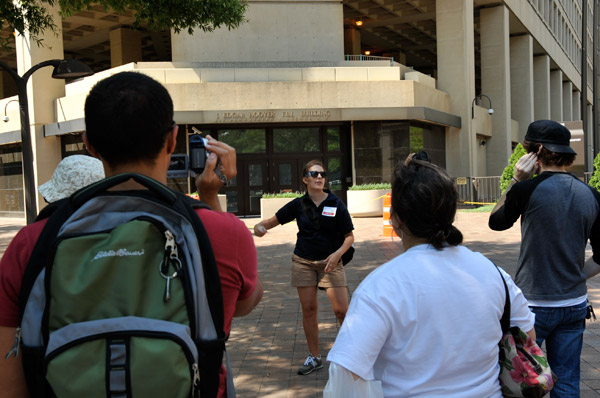 Off to the next stop.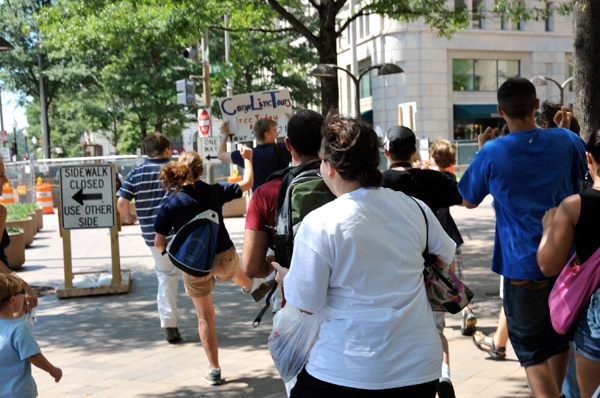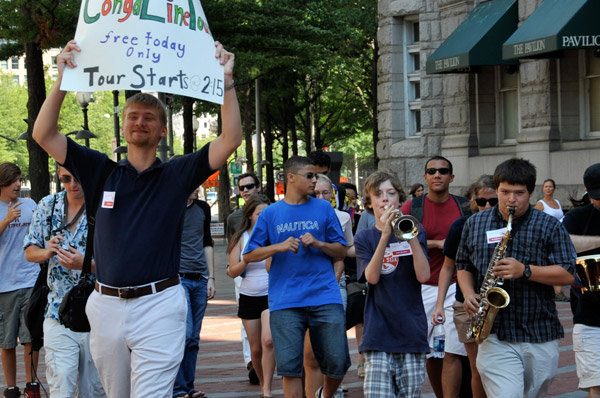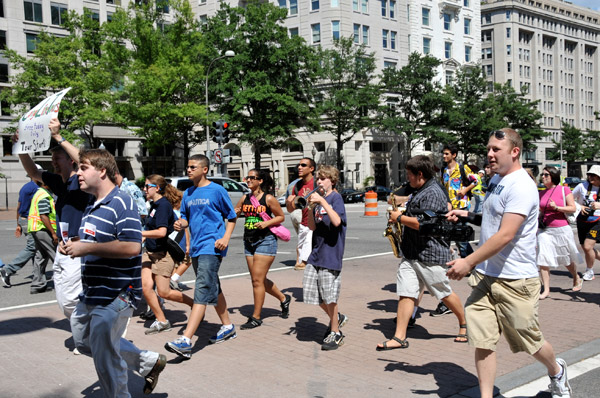 An actual tour bus passes behind Bruce.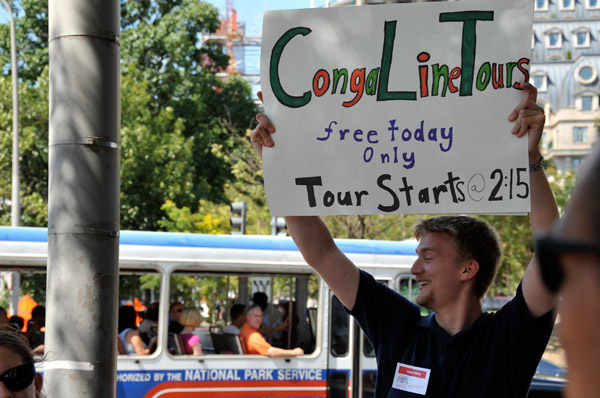 Once again, the event was great fun. It brought smiles to the faces of many tourists, some of who joined in the Conga line, or simply watched with bemusement as the tour group passed by. I think most people thought Conga Line Tours was real. (Professionally printed brochures certainly helped sell it.)

The band did great, and the tour guides had really done their homework. They gave a fact-filled tour, with detailed (and accurate) descriptions at each stop. One of the agents also did a good job playing the part of a foreign tourist who had just arrived in the U.S. At the Ronald Reagan Building, he deadpanned "Who is Ronald Reagan?" and the tour guide didn't miss a beat, explaining in all seriousness who Reagan was.

Once again, I got a lot of good exercise running all around snapping photos and video.

But, after a couple hours, it was time to take the Metro home, another successful and entertaining Improv Everywhere mission under my belt.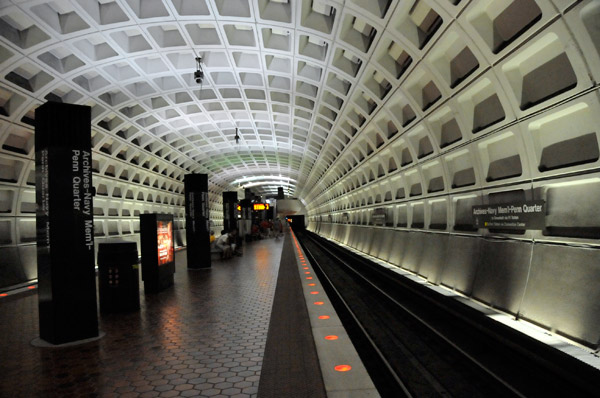 And finally, some unedited videos I took from the event: