Photos of the Day: Disney World 🔗
Last year, I had an annual pass at Walt Disney World. As a result, I found myself at Disney on more than one occasion. Although I've had my fill of Disney for awhile, I was able to spend some quality time with family there and also take advantage of a number of "backstage" tours. Some photos from two separate trips are shown below.
This photo shows the Osborne Festival of Lights at Disney MGM Studios on December 2, 2006 at 7:04 p.m. Each winter, the backlots of MGM Studios are covered with millions of Christmas lights, courtesy of Sylvania Lights (Disney's all about sponsorships, you see). Many of the displays originated at the home of the Osborne family in Arkansas, until neighbors complained about the bright lights and traffic. Disney doesn't have a problem with bright lights or lots of traffic, so they were happy to provide the display with a home. Without a tripod, the Festival of Lights is not too easy to photograph. Thankfully, the environment often provides stationary surfaces that can be used as a makeshift tripod (in this case, a fake mailbox, as I recall).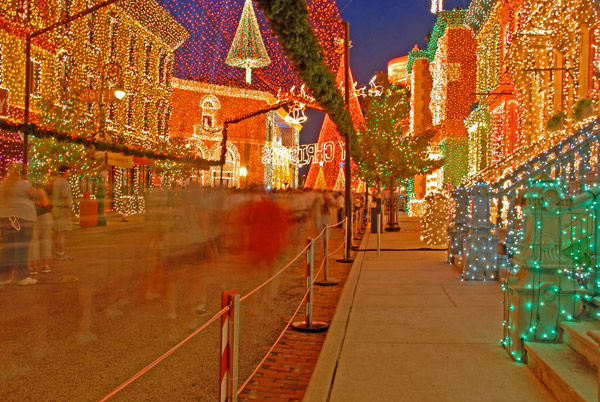 Two of my favorite Disney rides are both found at MGM Studios: the Aerosmith Rock 'n' Roller Coaster ('cause the "John Tesh Rock 'n' Roller Coaster" doesn't have the right ring) and the Twilight Zone Tower of Terror (sadly, the Otis Elevator Company was unwilling to sponsor that ride). At Disney, it's all about the theming, and while these rides would stand OK on their own, they become truly special with Disney's careful attention to detail.
The Rock 'n' Roller Coaster is an indoor, upside-down, in-the-dark, linear induction-launched coaster. But there's a backstory, and it involves Aerosmith, backstage passes, and rushing through L.A. freeways to make the concert on time.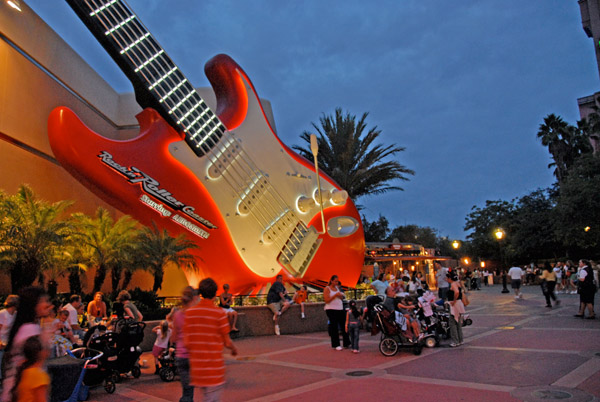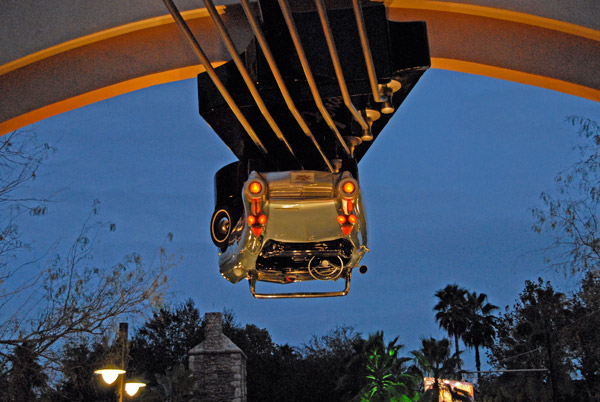 The Twilight Zone Tower of Terror has perhaps the best theming of any Disney attraction. Upon entering the lobby, it becomes obvious that this once-prestigious hotel has seen better days. Items scattered about indicate that the residents left in a hurry. But a concierge appears and whisks you into the hotel's library, and then to the basement to catch a maintenance elevator to your room. Apparently, there was some kind of accident involving the hotel's main elevator. Unfortunately, a similar fate will unfold with the maintenance elevator.
The concept of the ride is simple, although the engineering required to make it happen was impressive. (During its, um, descent -- the elevator falls faster than gravity.) But the backstory and careful attention to details makes the ride really memorable. (It won't even occur to you that you ended up in the "basement" of the hotel without ever going downstairs.) In the following photo you can see some of Disney's attention to detail on the outside of the hotel: the (carefully engineered) burned out and flickering neon letters, or the lone light in a top room of the tower. Doors also briefly slide open, revealing screaming elevator passengers as the elevator pauses, then suddenly drops.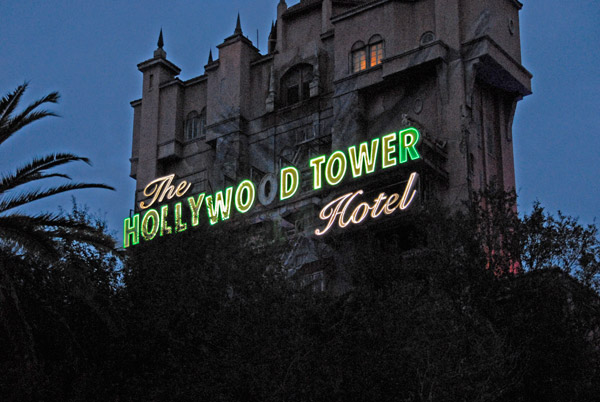 Another shot at MGM Studios, just as the Florida sun retires for the evening.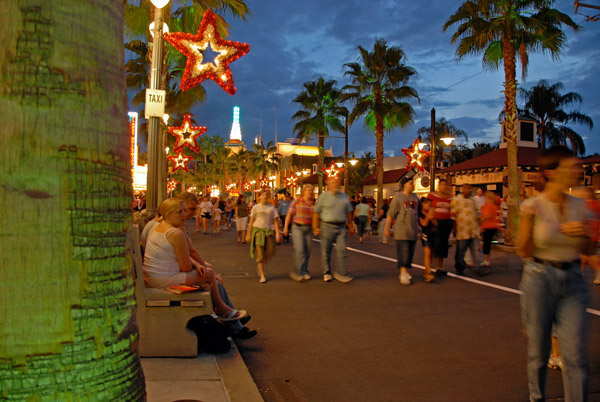 Many people don't realize that Disney offers a wide selection of "backstage" tours, ranging from about an hour to a full day. In some cases you must sign up for these tours months in advance. I have gone on many of these tours, including the all-day "Backstage Magic" tour and the half-day "Keys to the Kingdom" tour. The Backstage Magic tour in particular provides a view of Disney that few guests could imagine, visiting spots at EPCOT, MGM Studios, and the Magic Kingdom. You get to see what rides look like behind the scenes, and all of the logistics behind running one of the world's most popular vacation destinations. Exits to backstage areas are hidden in plain view throughout the park, and Disney uses all kinds of optical illusion tricks to hide backstage areas -- in a practice they call "sightline management." When going from "on stage" areas (any area guests can see) to backstage areas, we had to exit through double-doors, and could not allow both doors to be open at once -- since Disney does not want children to see Mickey Mouse walking around backstage with his head off.
The change from on-stage to backstage areas is dramatic. On-stage areas have meticulous landscaping; in backstage areas, they don't even bother mowing the grass.
The tour includes stops at the maintenance shops, where carpenters, electricians, and artists design and maintain rides, Christmas decorations, and everything you can imagine from Disney properties around the world. You also get to see where costumes are designed and where employees drop off their dirty laundry each day. I have little interest in costume or clothing design, but was duly impressed by Disney's ability to electronically pull up specific costume designs from years ago and have a robotic cutting table automatically cut all of the fabric pieces necessary to assemble the costume. We also learned that Disney copyrights all of its costume designs -- and there have been thousands and thousands of them over the years.
The day is filled with an endless supply of Disney anecdotes and trivia, and ends with a tour of the Magic Kingdom's hidden "Utilidor" underground labyrinth. (An example of the factoids you learn: the Magic Kingdom has a three-stage plan for evacuations in the event of an emergency. In the event of a tornado, all guests of the Magic Kingdom (at full capacity) can be sheltered in the underground Utilidors. Disney has only instituted an evacuation on a few occasions. Once was on 9/11, when guests were asked to leave the park through normal exits but were not told why.)
Alas, Disney does not allow cameras on many of the tours, including the Backstage Magic tour. But they do allow photos on the EPCOT "Behind the Seeds" tour. The following photo shows a fishery behind the scenes at the "Living with the Lands" ride. What you don't see is what happened a few seconds after this photo was taken. The guide (a full-time biologist at EPCOT) tossed a handful of fish food into the tank, causing dozens of large fish to go into a feeding frenzy, splashing tons of fishy water right in my face and camera lens. If I wasn't taken aback I would have snapped an awesome photo. Oh well.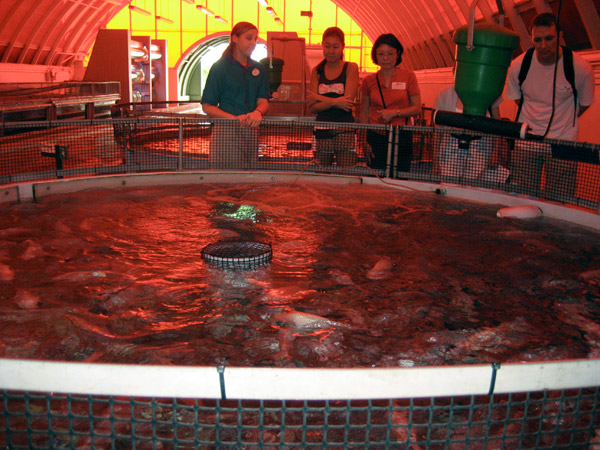 On to the Animal Kingdom, Disney's answer to Busch Gardens. In the following photo, you can see some kind of bird. A living, breathing bird -- not the audio-animatronic kind. I would love to have a better story than that, but I've got nothing.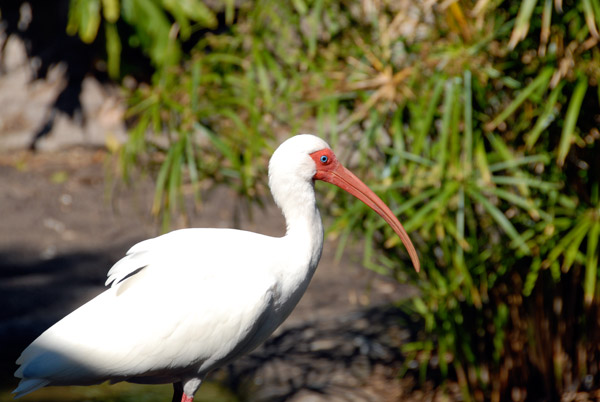 Another shot I like from Animal Kingdom.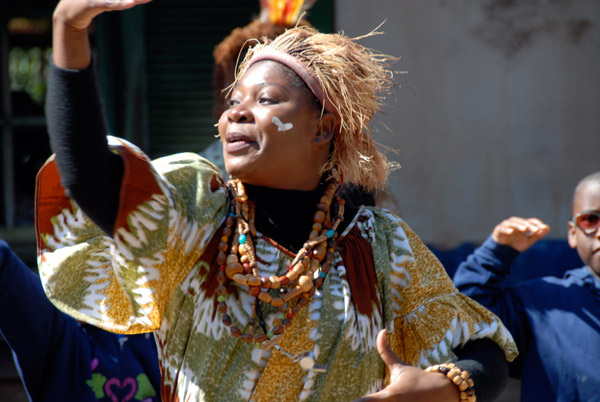 Nothing too interesting about the following photo, except that it once again highlights Disney's careful attention to detail. This is the interior of a fast food outlet, designed to look like an African market. On the Backstage Tour, we learned about all of the techniques Disney uses to "weather" surfaces or simulate different kinds of material. (Hint: they're really good with plaster and concrete.) You can find all kinds of subtle detail flourishes throughout Animal Kingdom. For example, the walkways are designed to look like dried mud, and show tracks from bicycles, or footprints from various animals.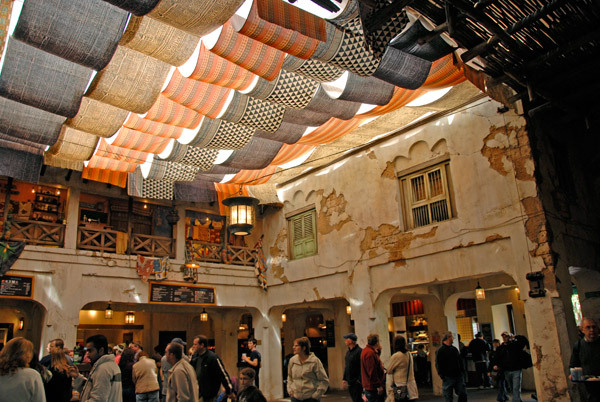 Here is a shot of Disney's newest thrill ride, Expedition Everest at Animal Kingdom. It's a fun ride -- a fast roller coaster that goes forwards and backwards, and ends with a visit from a disgruntled (and enormous) snowman. I dare say the snowman even appears somewhat abominable.
You might notice that there are no riders in this photo. In fact, the train was not moving -- Expedition Everest had just broken down, and the riders had been carefully evacuated just before this photo was taken. Sometimes it takes awhile to work the kinks out of new rides. (Test Track at EPCOT Center was notoriously finicky during its early years; the computers shorted out anytime it rained.)
Expedition Everest has some of the longest lines at Disney right now, but the line queue is particularly well done. As you walk along, you see what supplies are required for a trip to Everest, and you also get to view artifacts and records from a past Everest expedition. It seems some trekkers disappeared, but some of their items were recovered by a search party, including film from their cameras. The photos tell a story, but the ending is a bit mysterious. The expedition seemed to be off to a good start, but they appear to have found large footprints in the snow. As you near the end of the line, you see pieces of recovered gear that show rips and tears that don't seem natural. And then... it's time to board the train for a trip up and into Everest.
Yes, Disney understands that they're really in the storytelling business.