Revisiting Shots of the Day 🔗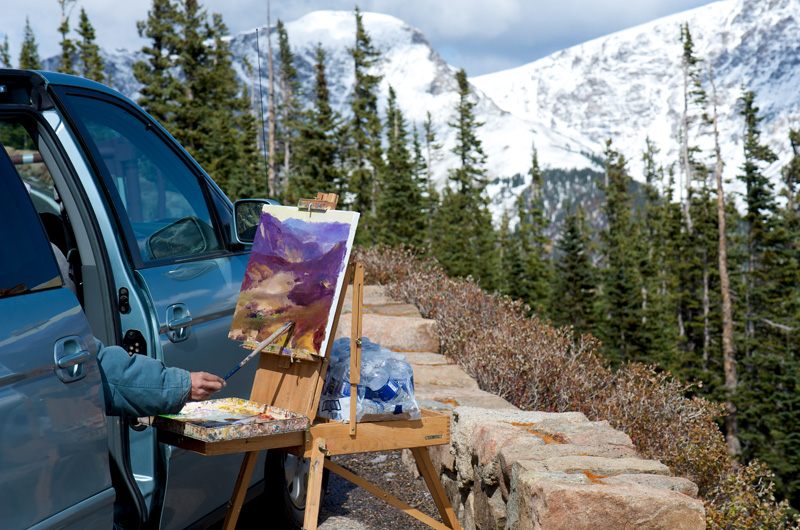 Nikon D3, ISO 200, f/10, 1/400s.



I captured the photograph above on September 25, 2009 in Rocky Mountain National Park. All but a tiny segment of Trail Ridge Road had closed due to early Colorado snows. This was the farthest up the drive you could go, and a number of cars had parked briefly as their passengers stepped out of the car, walked to the ledge to take in the view, and then quickly hopped back in their cars after realizing how biting cold the frigid wind was.

I was walking along the road, my fingers quickly numbing from the cold, when I stumbled across this scene. Every minute or two, an old hand would delicately appear from within the van, brushing tentatively against the canvas for a second or two before retreating back into the van. It was an interesting scene, so I waited for the right moment and snapped a photo. I never did see the body or face that belonged to the hand, which lends a mystery to the photograph. Adding to the intrigue is that the painting shows the valley sans snow, even though the valley was covered in snow and had been for at least a couple of weeks. Had this artist started the painting early in the year? How long had s/he been working on it? In the minutes that I observed the artist working, I couldn't help but notice how slow the pace was. For someone like myself whose life is often frenetic, it was equal parts relaxing and frustrating. I was envious and impatient.

I like taking photographs that tell a story, but sometimes the best photographs raise more questions than they answer.