Shots of the Day: Canyon Country in Utah 🔗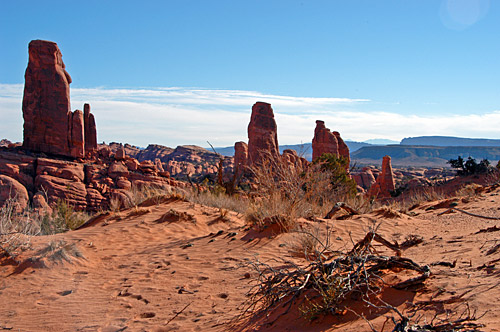 (Photo taken Jan. 25, 2003 at 4:18 p.m.)



In 1968, Edward Abby wrote a book titled Desert Solitaire, detailing the seasons he spent as a Park Ranger in Utah's Arches National Park. I read the book for the first time about a year and a half ago; I have visited Arches several times over the past few years, but only for a couple days at a time, not an entire season.

In many ways, Arches has not changed since Abbey wrote about it in 1968. Indeed, it hasn't changed much for thousands of years. Wind and water are patient. But, as Abbey feared, the Park is visited by increasing numbers of people each year -- a problem many National Parks are facing. Yet, as I read the book, I couldn't help but wonder: why should Abbey get the Park all to himself? On the surface, his tone seemed condescending towards the swarms of people that visit the Park each summer. I have mixed feelings on this. On the one hand, I think it's important for as many people as possible to see pristine wilderness areas such as Arches -- it can be a spiritual experience, and convey to people the importance of preserving our wilderness areas for future generations. On the other hand, the more people that visit, the less pristine it becomes.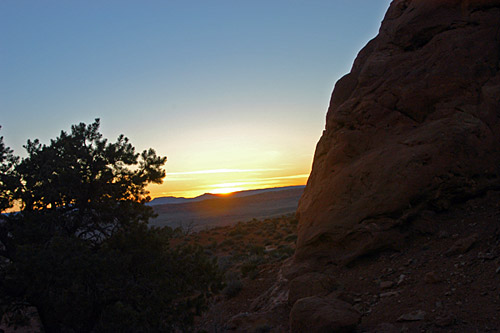 (Photo taken Jan. 25, 2003 at 7:32 p.m.)



One of my favorite hikes of all time was at the nearby Canyonlands National Park -- a short drive from Arches but in many ways, worlds away. Canyonlands is one of the least visited National Parks in the U.S. On one visit several years ago, I hiked up to the top of Whale Rock, in the Island in the Sky District of the Park. It wasn't a challenging or long hike, but once at the top, I had a 360-degree panorama, seeing nothing but miles and miles of wilderness in every direction. It was off-season, and there were no other visitors to the Park at that time. I stayed there for several hours, taking pictures and listening to the unearthly silence, knowing that I was probably the only human being within miles in each direction. Yet, somehow, I also knew that a couple thousand years ago, someone else sat in the same spot -- an Anasazi Indian, perhaps? And I wondered what they thought about it, and I wondered whether the view was much different.

Time seems to stand still in the red, weathered canyon country of Utah, and when I visit, I am struck by two seemingly incompatible feelings. At once, I am humbled by how miniscule I am in the scheme of the Universe. But I also feel that I must be special to be gazing at such an incredible view.

And that's one reason why I don't think I'll ever tire of visiting the Moab region of Utah. I understand why Abbey wanted to keep that section of the country to himself.