Leaf peeping at Shenandoah, 2004 🔗
So, I decided to take a 2-day break from work and headed to Virginia's Shenandoah National Park for some hiking, camping, and photography Oct. 5-6, 2004. The leaves aren't peaking at Shenandoah yet -- they should be in their prime in about a week -- but there was plenty of color and the weather was perfect.

While packing, I tried to blow dust off the CCD sensor in my Nikon D100, but as this shot taken at a Shenandoah overlook demonstrates, my camera has a serious dust issue: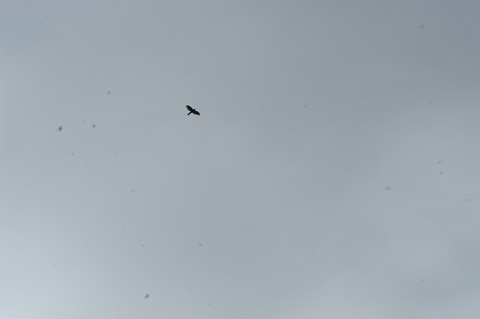 To a trained photographer's eye, that shot is horrific. Don't see the dust? Try this version: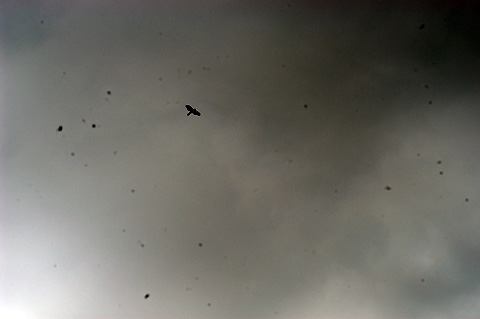 (Yes, there is a peregrine falcon in both shots; he, at least, is not dust, but everything else is.)

Dust is a serious issue with digital SLR cameras. Dust collects along the low-pass filter in front of the CCD, and once there, it's difficult to get rid of. All methods are extremely dangerous to the camera. Since air won't dislodge the dust particles on my CCD, I'll have to explore a risky swabbing technique or simply send the camera in for servicing to Nikon.

Now that you've seen my dust reference shot, see if you can detect the dust in the following pictures.

This next shot was taken at Big Meadows just before sunset. A lot of deer graze in the meadows, and are most readily seen at dawn and dusk. I spent over an hour trekking across the meadows trying to catch photos of deer in the best light.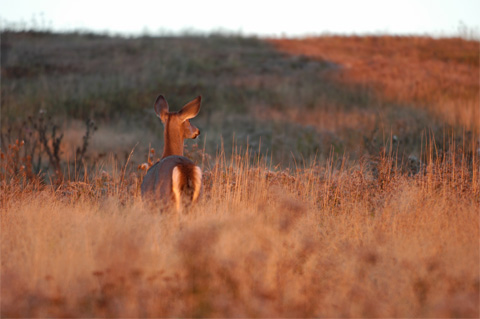 That wasn't my original intent; earlier, I had started a hike up Bearfence mountain, a challenging rock scramble to a peak offering a 360-degree view. I had hoped to take some sunset photos there. The last part of the climb goes up a steep section of rocks that drops off to the side dozens of feet. One wrong step and it's over, and those rocks are slippery! I hiked up Bearfence mountain a number of years ago, and remembered it being challenging, but as I hit the rough portion Tuesday with sunlight fading, an awkward 25-pound pack on my back full of photography gear and a tripod, and still suffering occasional bouts of dizziness left over from a "fun" 1-month fling with meningitis this past July, I wisely paused and realized this wasn't such a good idea. Especially since I would be making the dangerous trek back in the dark. My cub scout leader from Colorado died by losing his balance and falling off a cliff, and anytime I'm in a similar situation I am reminded (haunted?) by that event.

So, heading back to Big Meadows and spending time there was fine with me.

A nice "postcard shot" of the day fading at Shenandoah. I'm still a fan of the Rocky Mountains, but there's an understated beauty in the "ripple" of the Appalachian mountains fading into the distance, each ripple a slightly different hue with frequent ambiguity as to where the land ends and the sky and clouds begin.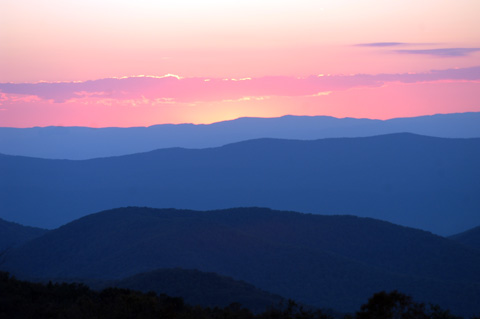 Another sunset view from Big Meadows.

(As a bit of trivia, the image you see at the top right of my blog is another sunset shot from Big Meadows taken a couple years ago, with ominous-looking clouds.)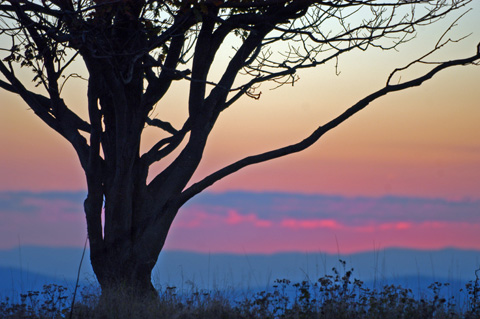 Fire is always fun to photograph. And my campfire-making skills have definitely improved over the years.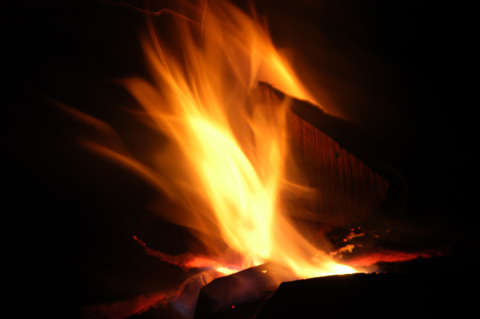 On this trip, I tried out my new tent -- a North Face Mountain 25 expedition tent. I made a trip to Shenandoah last October and nearly froze, as the temperature dipped down into the low teens. This time, I was going to be comfortable no matter how cold it got. (The temperature dipped down to about freezing.)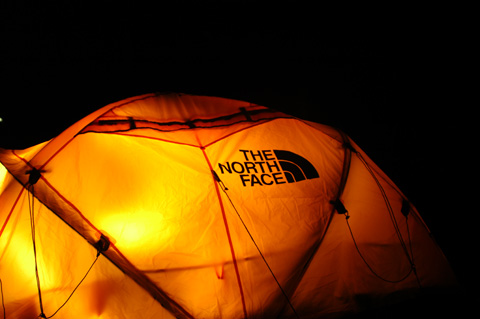 The next morning, I hiked to Camp Hoover. Along the way there are three stream crossings and, of course, plenty of small waterfalls. The temperature was perfect for hiking -- I was freezing for the first 15 minutes of the 4-mile trek (in shorts and a t-shirt) but quickly warmed up. The temperature finally settled into the upper-50's by mid-day -- very comfortable and cool enough to keep the bugs at bay.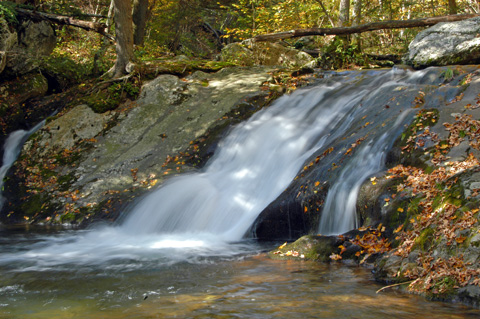 Another shot of a leaf about to fall, framed by a stream in the background.