Visits to DCSki by Operating System 🔗
Visits to DCSki have continued to rise this winter season. In the past several months alone, well over one hundred thousand unique visitors have spent time on the site. Because DCSki is such a high-volume site, it's always interesting to dive into the demographics to look for trends. Over the past several months, the following chart represents the operating systems in use by readers visiting the site: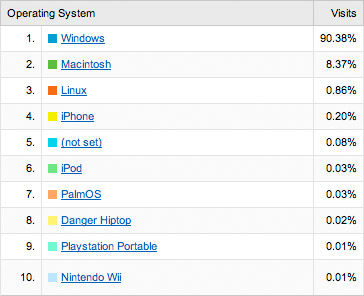 Windows continues to be the dominant operating system. Among Windows users, 83% are using Windows XP, while 10% are using Vista. About 5% are using Windows 2000. Virtually no visitors are using Windows 95, NT, ME, or CE. Less than 1% are using Windows 98.

Windows is starting to slip a bit, though. Just over 8% of readers are now using Macintosh. (Of those, 57% are using Intel Macs and 43% are using PowerPC Macs.) This has climbed several percentage points in the past couple years alone; clearly Apple is gaining market share in the United States. I am also surprised that Intel Macs now represent over half of DCSki's Macintosh visitors.

Next up is Linux, with less than 1%. Linux is popular in the server space, but I've never seen many Linux readers visiting DCSki.

Despite being a new product, 0.2% of DCSki's readers visit the site using an iPhone. (And 0.03% are using an iPod touch.) This is still a blip, but represents an overwhelming percentage of DCSki's smart phone users. In the coming years, it is estimated that the number of users accessing the web via smart phones will explode. If this number continues to grow, I may consider producing a version/style of DCSki optimized for the iPhone and other smartphones.

I am also surprised to see that some readers (although a very tiny percentage) access DCSki using a Playstation Portable or Nintendo Wii.

And here are some stats on web browser usage: 69% are using Internet Explorer (sadly); 23% are using Firefox; and 6% are using Safari. Just over 1% are using Mozilla. Netscape, Opera, Camino, Blazer, and Konqueror are fighting for the remaining crumbs, each well below 1%.

As for people reading my blog, the sample size is significantly smaller (seriously). But it still represents a few thousand unique individuals over the past year. 78% of you are using Windows, 18% of you are using Macs, and 3% of you are using Linux.